Men's shed movement continues to grow in Border and North East
The friendships in men's sheds build far more than furniture
HONING THEIR CRAFT: Men's shed members like Robert Marriott at the manual activities centre plan their individual goals as well as group ventures. Picture: JAMES WILTSHIRE
NEW HOBBIES: Ron Lutton joined the manual activities centre in Lavington because he wanted to turn wood. Picture: JAMES WILTSHIRE
Members of Lavington's manual activities centre Les Parlane and Kevin Scanlon with the once-damaged gates from Albury's Pioneer Cemetery. Picture: JAMES WILTSHIRE
Alec Thompson and Ken Farrar make plans for the Wodonga men's shed in 2008.
Ollie Cox watches as Tim Mathieson opens the men's shed in Baranduda six years ago.
Kevin Scanlon and Ron Lutton. Picture: JAMES WILTSHIRE
Ron Lutton and Kevin Scanlon. Picture: JAMES WILTSHIRE
Picture: JAMES WILTSHIRE
Time for a cuppa at the manual activities centre in Lavington. Picture: JAMES WILTSHIRE
Picture: JAMES WILTSHIRE
Picture: JAMES WILTSHIRE
Picture: JAMES WILTSHIRE
More than furniture is made when men meet together. The growth of men's sheds in the Riverina and North East shows sharing projects, skills and experiences creates friendships built to last
PUT a group of older men together and get them to open up about their feelings.
But give them a shared goal, a place to go that's theirs and the tools they need, physical or otherwise.
Now they're talking.
Professor Barry Golding, of Federation University Ballarat, in 2007 observed "men don't talk face to face, they talk shoulder to shoulder".
In the 10 years since, men's sheds continue to offer people an outlet beyond the workplace where interests like woodwork and metalwork can be pursued and friendships ignited.
About 25 men's sheds operate within 100 kilometres of the Border, from Lockhart to Benalla and many communities in between.
Shoulder to Shoulder became the motto of the Australian Men's Shed Association, which started in 2007 with 200 sheds and now represents more than 1000.
The association's Melissa White said various men's sheds had already been formed.
"But they didn't know the other existed, so each shed was reinventing the wheel over and over in setting up," she said. "We saw the need to share the information, thus making it easier for each successive shed to begin."
The manual activities centre in Lavington began way back in 1978, serving as a men's shed long before the term became common.
Men don't talk face to face, they talk shoulder to shoulder
Professor Barry Golding
Ms White said sheds were all about mateship and making a contribution.
"The men just love to help others and in doing so are actually helping themselves," she said.
"But don't tell them it's good for them."
Good for them, but also good for others as shed members use their skills, old and new, to help their communities.
Through coffee tables, nest boxes, garden beds, outdoor benches and more, many a Border venture has been enhanced by objects built in different men's sheds.
At the Lavington centre, two freshly painted gates lay drying, restored after being damaged at Albury's Pioneer Cemetery. On display are certificates from pre-schoolers, water polo players and a historical society, all grateful for past assistance.
Men in sheds also share their skills, with Chiltern shed members recently teaching woodwork to students from Belvoir Special School.
This joint know-how brings internal benefits as well – member Ron Lutton noted the Lavington shed installed its own dust extraction system at a fraction of the possible commercial cost.
Mr Lutton, a retired town planner who lives in Wodonga, joined the manual activities centre about five years ago, wanting to learn wood turning.
Able to instruct was fellow member Kevin Scanlon, a former industrial arts teacher.
"He helped me do some wood turning and that and I stayed over," Mr Lutton said.
"These blokes, camaraderie keeps you coming back."
Mr Scanlon, now president, had been keen to continue woodwork after retirement and came to the shed in 2005.
"I enjoy the woodwork, enjoy the company," he said. "I don't like working by myself, much easier if you're working with somebody, just talking, more fun."
Chevington Tools' Greg Cowie, who demonstrated metal craft tools at the Lavington centre this week, has visited men's sheds across Victoria and NSW for 10 years.
"They're all quite different, they're all about the chaps that come here," he said.
"Some just want to come and have a coffee and a chat, some want to get in and build a front fence or a gate."
Mr Cowie praised programs where children completed projects with men's shed members.
"The kids maybe haven't got a dad or maybe they won't listen to Dad," he said.
"Sometimes the kids will listen to someone else. These fellows sometimes have got a bit more time to put a bit of effort in, it's a win-win for both of them."
Often women can join sheds or form their own groups.
Margy Barwood floated the idea of a Beechworth Women's Shed in January and now members meet each week.
"The thing in common that everybody has is that they like to make things and they like to get together socially," she said.
"The social aspect has been a huge bonus for all of us, we've bonded really well."
Mrs Barwood said chatting probably did come more easily to women anyway but they also valued working together.
"It takes your mind off your worries because you're thinking about something else," she said.
As shed activities progress, conversations can take a more serious turn, with experiences being shared.
A member came into the Lavington manual activities centre having just been diagnosed with prostate cancer.
People in the room could help because they'd been there too.
"Go and see him, he's had radiotherapy, he's had chemotherapy and he had the operation, so go and have a chat to them all," was the advice.
Men and their health sometimes don't know each other well but the group setting of a shed can serve as a collective prompt.
This week the Lavington centre hosted a two-day first aid course while Spanner in the Works, a health check-up held at Charles Sturt University in May, attracted dozens of members from 10 sheds. High school students prepared lunch for the crowd.
A letter from one participating group, Henty Men's Shed, thanked organisers for their contribution "to the health and wellbeing of us all".
"It was like dropping a brick in a calm pond, for the impact of what you have achieved will spread far and wide," it said.
Men's Furniture Building Program
In this conflict, men have not only been displaced from their homes, but also as "protectors" of their families and dislodged as the primary breadwinner. This leads many to negative coping mechanisms, and domestic and other forms of violence in camps is generally high. To address this – and to provide men a productive activity where they can begin to support their families' needs, SEED began its men's livelihood program.
SEED operates a pallet furniture-building program to provide men with income-generation skills, reducing the risk of their resorting to dangerous and exploitative work. Pallet furniture-making offers a highly sustainable income source in that wooden pallets are free, and uses inexpensive tools that last for many years.
SEED is providing livelihood training to men, consisting of woodwork and 'up-cycling' of wooden pallets to make furniture. The training and furniture-making activities are carried out in our large woodworking site near the SEED Center in Mamilyan Camp. Pallet furniture offers consumers both quality and affordability, and SEED's assessment in Erbil and Duhok found that there is a market for such pieces. For approximately $300 per person, we are helping men to start a business that can sustain them in the long term.
The Secret Weapon Of "Mad Men"? Herman Miller
How the Zeeland, Michigan, furniture company helps Mad Men set decorator Claudette Didul-Mann get the details right.
Sterling Cooper and Partners is an agency whose reputation is built on a progressive approach to advertising. So it has made sense, throughout the last few seasons, to see Herman Miller's mid-century aesthetic seep into the offices designed by Mad Men's set decorator Claudette Didul-Mann. An Eames Time-Life chair shows up in Roger's office; Don gets an Aluminum Group chair. And for good reason. Herman Miller helps to visually represent the cultural evolution at the heart of Mad Men.
Didul-Mann, who spoke to Co.Design about her process, says she is a stickler for details. As such, she relies heavily on the expertise of Herman Miller staff to help bring design context to the set. Product loans from Herman Miller would look too contemporary, so Didul-Mann and the show's research department work closely with Herman Miller's archives team in finding vintage and accurate pieces. When Didul-Mann found a Nelson Swag Life chair, for instance, she contacted Herman Miller to see what year it would have been upholstered.
Because the show's approach to period design is both sumptuous and obsessively fastidious, nothing is taken for granted. For example, the Lounge Chair was off limits, according to Didul-Mann, because Matt Weiner thought it would be a cliché. Even the hardware has to be accurate. "One or two other times I've called [Herman Miller] trying to find shelves or bases for shelves, or the bumper for the base of the shelf," Didul-Mann says.
Her additional research and inspiration for the set includes studying vintage issues of magazines like Interior Design and House Beautiful, as well as old Herman Miller ads, which were often designed by in-house design director and legend Irving Harper. Didul-Mann also has a personal trove of images to pull from. "My father worked in advertising for over 40 years and there was Herman Miller and Knoll furniture everywhere you went."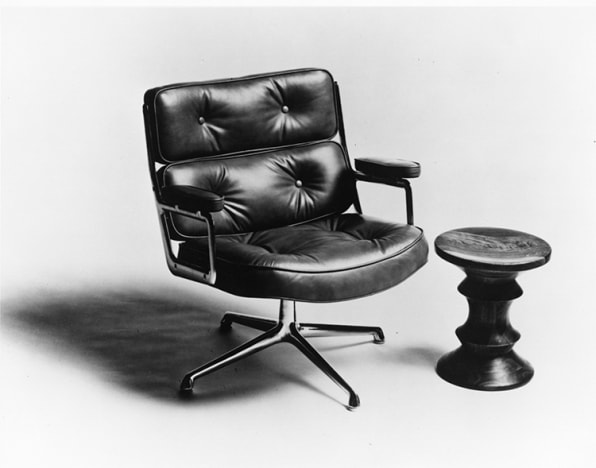 The Eames Time-Life chair.
Herman Miller's role in the show isn't just about recreating a retro aesthetic. The company ushered in a new era of office design when the white collar creative industry began to flourish after World War II. In 1956, the company issued an advertisement for the "living room in your office," saying, "An office isn't just an office. It's a conference room, a living room, and a library too. The furniture, therefore, must be as flexible as the functions it performs."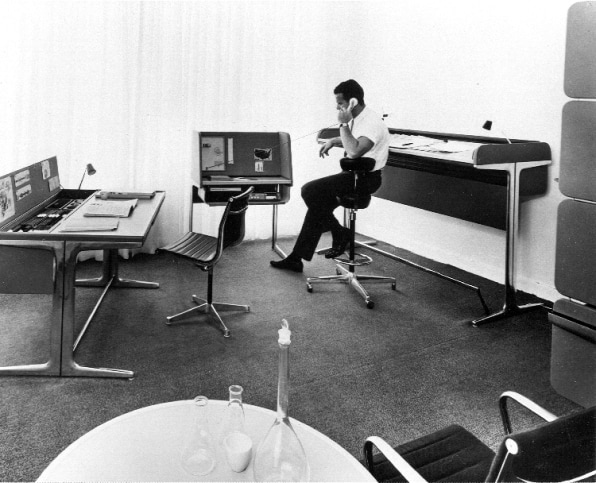 The Aluminum Group chairs.
Likewise, on Mad Men, work isn't just work. For Don, it's how he fashions his new identity, and his very own brand that disguises his shabby former life. For Peggy and Joan, the office life offers a chance to be more than just housewives. Does it work out? Well, couches tell stories about ambition and influence–Megan makes her move on Don's couch–and chairs show how high up the ladder you made it–when Peggy sits in Don's chair at the close of season six, it's suggestive of her escalating role in the office.
Margaret Rhodes is a former associate editor for Fast Company magazine.
Why the world is obsessed with midcentury modern design
Today, more than ever, the midcentury modern look is everywhere. DVRs are set to capture Mad Men's final season playing out on AMC. Flip through the April issue of Elle Decor, and you'll find that more than half of the featured homes prominently include midcentury furniture pieces.
Turn on The Daily Show and you'll see the guests sitting in classic Knoll office chairs. If you dine in a contemporary restaurant tonight, there's a good chance you'll be seated in a chair that was designed in the 1950s—whether it is an Eames, Bertoia, Cherner, or Saarinen. A few years back, you could stamp your mail with an Eames postage stamp.
Meanwhile, type the words «midcentury» and «modern» into any furniture retailer's search pane, and you'll likely come up with dozens of pieces labeled with these design-world buzzwords—despite the fact that there is nothing «midcentury» about the items they describe. Over the past two decades, a term describing a specific period of design has become the marketing descriptor du jour.
«Midcentury modern» itself is a difficult term to define. It broadly describes architecture, furniture, and graphic design from the middle of the 20th century (roughly 1933 to 1965, though some would argue the period is specifically limited to 1947 to 1957). The timeframe is a modifier for the larger modernist movement, which has roots in the Industrial Revolution at the end of the 19th century and also in the post-World War I period.
Author Cara Greenberg coined the phrase «midcentury modern» as the title for her 1984 book, Midcentury Modern: Furniture of the 1950s. In 1983, Greenberg had written a piece for Metropolitan Home about 1950s furniture, and an editor at Crown urged her to write a book on the topic. As for the phrase «midcentury modern,» Greenberg «just made that up as the book's title,» she says.
A New York Times review of the book acknowledged that Greenberg's tome hit on a trend. «Some love it and others simply can't stand it, but there is no denying that the 50's are back in vogue again. Cara Greenberg, the author of 'Mid- Century Modern: Furniture of the 1950's' ($30, Harmony Books) manages to convey the verve, imagination and the occasional pure zaniness of the period.» The book was an immediate hit, selling more than 100,000 copies, and once «midcentury modern» entered the lexicon, the phrase was quickly adopted by both the design world and the mainstream.
The popularity of midcentury modern design today has roots at the time of Greenberg's book. Most of the designs of the midcentury had gone out of fashion by the late 60s, but in the early- to mid-eighties, interest in the period began to return. Within a decade, vintage midcentury designs were increasingly popular, and several events helped to boost midcentury modern's appeal from a niche group of design enthusiasts into the mainstream.
By the mid-90s, a niche market of collectors had already driven up prices of the original midcentury designs. A New York Times article notes that an original Eames molded plywood folding screen, which had been out of production, was worth as much as $10,000 in 1994. In December 1999, a George Nelson Marshmallow sofa sold for an unprecedented $66,000. A year later, two George Nelson «pretzel» armchairs sold for just over $2,500 apiece, while a 1965 George Nakashima cabinet sold for $20,700.
Some midcentury furniture designs, like the iconic Eames Lounge Chair, never went out of production, but many others had fallen out of production by the mid 90s. And even getting your hands on the pieces that were still being produced would have been challenging without an architect or a designer to order a piece for you.
In the early 1990s that began to change: In 1993, Knoll, a major manufacturer of iconic midcentury designs, opened its SoHo showroom, once to-the-trade only (meaning pieces were sold only to designers and architects, not to consumers), to retail shoppers.
Knoll's direct-to-consumer strategy was in part a reaction to a major downturn in the office furniture market in the late 1980s and early 1990s—the company needed to increase its customer base to make up for lost office business. The manufacturer also did away with special pricing for architects and designers (typically 40 percent less), and instead offered the lower prices to anyone who walked into the showroom.
Knoll immediately saw a huge boost in business, and eventually converted its contract showrooms into «more visible, consumer-oriented sales centers.» As the years passed, more and more pieces that were once to-the-trade only would become available directly to average consumers.
Simultaneously, the 90s brought about reissues of many iconic midcentury designs. Furniture manufacturer Herman Miller was synonymous with the midcentury modern style during its heyday. Under the guidance of George Nelson, Herman Miller was among the first companies to produce modern furniture.
However, by 1994, Herman Miller had scaled back its business to focus almost exclusively on office furniture and had been out of the residential furniture market for 30 years. Like Knoll, Herman Miller would have been impacted by the downturn in the office furniture marketplace. Noticing a trend towards people working at home and creating home offices, Herman Miller saw an opportunity to return to the retail market.
The company decided to reissue pieces from the Herman Miller archive under the name Herman Miller for the Home, and to offer these pieces directly to consumers. The new pieces remained true to the original designs, but they were updated to use current fabric and material technology (the reissues were also stamped with a medallion to distinguish them from vintage pieces).
The company was also motivated by consumer frustration, according to Mark Shurman, director of corporate communications for Herman Miller. Both the limited number of vintage pieces and the low-quality knock-offs that had flooded the marketplace inspired Herman Miller to reissue the beloved designs. By bringing these classic designs back into production, Herman Miller was protecting its designs and its reputation.
The copycat market also gave Herman Miller confidence that the designs had a market. Herman Miller also took an early wager on e-commerce, launching a website in 1998. The company's bets paid off: From the moment they were reintroduced, the Herman Miller pieces have been in high demand.
The sales of the contemporary reproductions of the vintage midcentury designs got a huge boost in 1999, when a California entrepreneur, Rob Forbes, launched Design Within Reach, a direct-mail catalog and online business. (While many make fun of the company's name today, it was meant to describe the ease with which consumers could purchase the products, not their prices.) Not only did DWR give consumers direct access to midcentury modern pieces that were once sold only to the trade, but the catalogs also functioned as a design education for the masses. Every piece of furniture was accompanied by a biography of the product's designer, making Eames, Noguchi, and Saarinen into household names. DWR quickly became Herman Miller's largest retailer.
A pair of Knoll Barcelona chairs once owned by Charles Gwathmey, offered for $24,000 via 1stdibs.com.
At the low end of the collectors' market, vintage mass-produced pieces commanded (and still command) what some might consider astonishing prices for items that were made by the thousand. Today, an Eames fiberglass shell chair in good condition might sell for just $150, but an Eames Lounge Chair from the 1970s can command easily $7,000. (Prices for some pieces did drop-off with the reissues and the advent of eBay, which made the vintage market more accessible.
For example, it would be unusual for an original Eames screen to command today the $10,000 that the New York Times mentioned in the late 1990s.) And prices can quickly climb: collectors of the midcentury value the patina of age on the original pieces, and are willing to pay, especially if a piece is in original, non-restored, condition or has an interesting provenance. A pair of Barcelona chairs, another common design, was recently offered for $24,000 on 1stdibs.com, an online marketplace for antiques (a similar pair with no provenance might fetch a mere $4,000), but collectors would have been paying a premium to own chairs that came from the estate of architect Charles Gwathmey.
Many of the sites dedicated to second-hand furniture sales are flooded with genuine midcentury designs, but they are also overwhelmed with thousands of pieces that are labeled «midcentury modern» but are not of any design significance. Savvy sellers may even add a list of major designers and manufacturers to their listing keywords to lure collectors to click on non-designer items.
The Carlo Mollino table that sold for $3.9 million. Image courtesy Christie's Images Ltd.
True collectors aren't just snapping up vintage Eames lounge chairs. Rather, they are after one-of-a-kind pieces that have documented history and provenance. The market for these midcentury gems has exploded in the last ten years. Joshua Holdeman, Sotheby's worldwide head of 20th-century design, points to the 2005 auction of a Carlo Mollino table that sold for $3.9 million as a turning point for midcentury modern furniture's auction market. «It was the first time that something in the midcentury had made such a breakout price,» says Holdeman. «That [sale] was a signifier that these objects were extremely important in the history of design—and to collectors.»
Midcentury modern design, as shown in House Beautiful issues from 1960.
Media also played a role in midcentury modern's popularity. Wallpaper* and Dwell are two magazines that deserve much credit for championing the midcentury look. Wallpaper launched in 1996 and Dwell in 2000. The mainstream design media has also taken notice of the trend; the now-mostly-traditional House Beautiful, for example, devoted multiple pages to Herman Miller for the Home's launch in 1994 (after having covered midcentury modern design extensively in the 1960s).
In its review of the century, Time magazine called the Eames Molded Plywood Chair the «Best Design of the 20th Century,» describing the design as «something elegant, light and comfortable. Much copied but never bettered.» Mentions of «mid-century modern» and «midcentury modern» in the New York Times show a sharp upward spike from the mid-80s to the present day.
MoMA's «Organic Design in Home Furnishings» exhibition, which opened in 1941. Photo via Pointed Leaf Press.
Cultural institutions also did their part to celebrate the midcentury designs. The Museum of Modern Art, in particular, championed the modernist furniture movement from its start. MoMA's 1940 «Organic Design in Home Furnishings» competition brought attention to modern design (the competition was won by two then-unknown students, Charles Eames and Eero Saarinen, who collaborated on a chair design). The Museum was so interested in promoting modern design that visitors could actually sit on the furniture in the 1941 exhibition of the finalists from the Organic Design competition. Just five years later, MoMA devoted an entire show to Eames's furniture designs.
More recent exhibitions have raised the public's awareness of midcentury design. In 1999, the Library of Congress organized an expansive exhibition devoted to the work of Charles and Ray Eames. The show was mounted in six major cities over three years, making Eames a household name around the globe. A decade later, MoMA exhibited a selection of more than 100 midcentury objects from its design collection under the title «What Was Good Design? MoMA's Message 1944-56.»
In 2001, The Los Angeles County Museum of Art presented the first major study of midcentury modern California design, «California Design, 1930-1965: «Living in a Modern Way.» Exhibitions of midcentury modern design continue to be popular across the country; in fact, the LACMA exhibit was still touring last year, when it was shown at the Peabody Essex Museum in Massachusetts. In 2014, The Contemporary Jewish Museum presented «Designing Home: Jews and Midcentury Modernism.»
The Museum of Fine Arts in Boston has an event scheduled for April 10 called «Mad Style: Midcentury Modern Design.» Inspired by Mad Men, the event offers a curator-led tour of MFA's collection of midcentury design and cocktails and encourages guests to «dress in your 1950's chic.»
As MFA's event suggests, popular culture has also helped to bring midcentury modern design into the mainstream.Mad Men, which premiered in 2007, is one obvious cultural source. The show's reputation for period accuracy extended to the sets, which were specifically designed to reflect East Coast interiors in the 1960s. The set design team's research involved direct communication with Herman Miller, who helped to advise on period-appropriate furnishings and even provided period artwork from the company's archive that appeared on-screen as creative work that the agency was involved with.
However, it's not just period pieces like Mad Men or Jason Bates' immaculate 1980s apartment, complete with Barcelona lounge chairs and ottomans, that made the public aware of the period. midcentury icons are everywhere in film, television, and advertisements. On The Daily Show, Jon Stewart has interviewed all of his guests sitting on Mesh Management Chairs from the Eames Aluminum Group.
In a late '90s television ad for L'Oreal, Heather Locklear appears seated on an Arne Jacobsen Egg chair; the same design appeared again in a Razr phone print ad in 2008. Midcentury modern furniture makes frequent cameos in advertisements because of its clean, well-designed lines, but also perhaps because of a familiarity that advertisers believe the pieces lend their promotions.
Why does midcentury modern continue to be popular, and why have contemporary retailers and manufacturers embraced its clean-lined look so emphatically? Midcentury pieces are simply well-designed objects, with a timeless look, says Sotheby's Holdeman. «[Midcentury modern designs] sit very well in contemporary homes and interiors—they still feel fresh today, they still feel modern. A lot of those pieces haven't been bettered. They still stand the test of time.»
Familiarity is also a factor in midcentury's enduring popularity. Baby boomers who grew up with midcentury designs are certainly part of the market for both the originals and the reproductions. For this generation, the designs are a direct connection to their youth. (At the same time, many Boomers want something different. Stacey Greer, a midcentury furniture dealer interviewed by NPR, told a reporter, «They grew up with it and their parents had bought it, so they want anything but that.»)
Generation X can also be blamed for midcentury's more recent prevalence. In a 1998 article about Gen X's interest in midcentury design, interior designer Jim Walrod hypothesized that the appeal of the period to «Generation X, even those without knowledge of its origins, is natural because of »an invisible reference point» young people acquired after years of exposure to the art direction of old movies and television shows, not to mention the teak and stainless-steel contents of their parents' living rooms.» With «midcentury modern» designs available at retailers like West Elm, the period's look is also being marketed to millennials.
At the higher end of the market, Holdeman sees the interest in midcentury furniture running parallel to the market's taste for contemporary art. (Above, a circa 1950 low table from Sotheby's December 2014 auction of the Jon Stryker collection of European Modernism.) «The entire French midcentury portion of our category has become one of the blue-chip anchors of our market today,» says Holdeman. «It's largely connected to the contemporary art world—the way in which those two categories complement each other.» A Damien Hirst or a Jeff Koons is going to look more at home with a Prouve chair than a Louis XIV one, so contemporary art collectors have embraced the period.
The trend toward urban living may also be part of what keeps the midcentury look alive. «The designs were conceived for the smaller post-war home,» says Greenberg, who notes that they were designed to be mobile and lightweight for city residents who moved frequently. «All of that still plays into the way we live today.»
Источники:
Men — s shed movement continues to grow in Border and North East
Movement continues to grow in Border and North East
http://www.bordermail.com.au/story/4989731/the-friendships-in-mens-sheds-build-far-more-than-furniture/
Men's Furniture Building Program
Men's Furniture Building Program In this conflict, men have not only been displaced from their homes, but also as "protectors" of their families and dislodged as the primary breadwinner. This
http://www.seedkurdistan.org/mens-furniture-building-program/
The Secret Weapon Of "Mad Men" Herman Miller
How the Zeeland, Michigan, furniture company helps Mad Men set decorator Claudette Didul-Mann get the details right.
http://www.fastcodesign.com/3029186/mad-mens-secret-weapon-herman-miller
Why the world is obsessed with midcentury modern design
It didn't start with «Mad Men.» But the hit television drama definitely fanned the flames.
http://www.curbed.com/2017/11/22/16690454/midcentury-modern-design-mad-men-eames